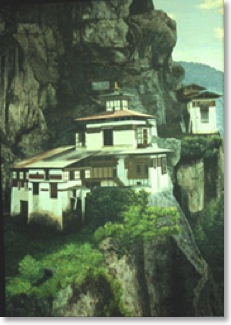 Taktsang I, in the manner of Malcolm Morley
1983, Acrylic on Linen, 37"x26"

When I first arrived in Bhutan in 1983 I could not wait to begin painting again. I had spent seven years in art history graduate school trying to understand the significance of the human activity of artistic creativity. Earlier, when I was a studio student, I knew I could paint and loved the activity itself, but had to find a conceptual basis. Upon completion of the oral defense of my dissertation on Mark Tobey at the University of Texas in Austin, I went straight to Bhutan. Within a week I was looking for what art supplies were available locally. I found acrylic fabric paints and some nice linen fabric in the only 'department store" in Thimphu, Tashi's.

I decided my first project should be to see if I could still make paint do what I demanded of it, and if I still commanded an illusionistic vocabulary. I was intrigued with the photorealist concepts about how we codify photographic images as "real". I discovered that one of the only local Bhutanese postcards was of the Taktsang, or Tiger's Nest Monastery. More than twelve hundred years ago Guru Padmasambhava meditated in a cave near the top of a vertiginous 3,280-foot cliff, and cleansed the Paro Valley for the introduction of Buddhism. The Guru, in his ferocious manifestation as Dorje Drolo, reached this precipitous perch on the back of a flying tiger, a mystical transformation of his consort. The spectacular monastery, familiar from all pictorial accounts of this remote Himalayan country, was built over this cave in 1692. The image had just the right blend of the exotic and the banal, and was emblematic of my new environment.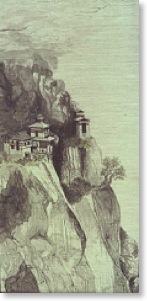 Taktsang II, in the manner of Tao-Chi and Carlos Santana
1985, Ink on Silk, 14"x7"


Taktsang I
taught me discipline and patience over a period of several months. Then my love of Chinese painting, fortified by my graduate studies, encouraged me to deal with the spectacular landscape I inhabited in a style capitalizing on their aesthetic sophistication. My next several paintings were done in ink on silk and were more spontaneous.
Taktsang II
was painted in a few hours during one sitting. It included homage aspects to a traditional Chinese painter and a contemporary guitar player. This inspirational device remained in most of my paintings on silk. The brushwork hearkens to the painter, while the calligraphic rhythms echo the music I listen to while I paint.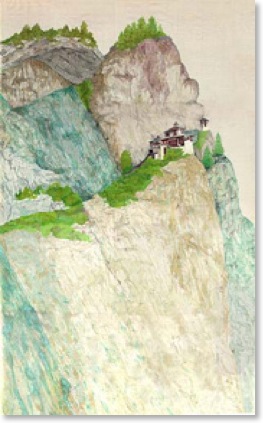 Taktsang III, in the manner of T'ang Yin and Duane Allman
1988, Acrylic on Silk, 57"x33"
Taktsang III
was the culmination of all the developments achieved in my paintings in Bhutan. The composition was laid down in light color washes in one session. The Chinese blue and green style is referred to, as well as the mineral pigments of Persian miniature painting. The network of calligraphic brushwork took ten months of layering with hand-made brushes. On silk every gesture is recorded and visible. The strokes vibrate with the harmony of T'ang Yin's vision, the intensity of Duane Allman's improvisation, the wisdom of Quranic verses in Arabic calligraphy emblazoned across the cliff face, and the essential energy of the Kingdom of Bhutan.